November 2012
Scottish Blue Lobster
 Roasted over Panama coffee tree charcoal.
Named the 2007 World Champion Cheese Affineur "Refiner" and honored as a Master Craftsman of France, Rodolphe Le Meunier now brings his passion for great cheeses to Bouley.
Precious Cargo 
 In order to send his cheeses to David Bouley, Le Meunier had to first master the transportation cycle to ensure the cheeses spend the least time in transit possible. He also needed to make certain that once the cheeses arrived at Bouley, they would be stored in optimum conditions to breathe and evolve naturally. Bouley built a specially designed cheese cellar for this purpose. The cellar itself has a viewing window that allow patrons to observe the cheeses, and the room is climate controlled–set to the exact temperature, humidity, and ventilation levels needed to create the perfect environment for the cheeses. To complete the cycle, Le Meunier has developed a training program to teach Bouley's staff how to care for, cut, and present the cheeses.
Rodolphe Le Meunier at Bouley Restaurant 
Le Meunier has provided a coup de coeur selection of five cheeses to be presented on a tasting plate at Bouley Restaurant. The seasonal assortment will change every few months, and Le Meunier will also conduct exclusive tastings, such as a trilogy of aged Comté d'Alpages featuring a 2008 aged 18 months, a 2007 aged 30 months, and a third from 2006 aged 40 months. They will be paired with a vin jaune, a regional white wine from France's Jura region. Look to Bouley's new Chariot du Fromage to taste the efforts of one of the Cheese world's master artisans.
Rodolphe Le Meunier at Bouley Test Kitchen Bouley and Le Meunier are also currently planning exclusive events at the Test Kitchen, where guests can taste all of Le Meunier's cheese selections and learn how to incorporate them into recipes.
Comte Foam
 Chef Bouley demonstrates how to make this simple yet savory dish.
Farm-to-Table
The 2nd annual Farm-to-Table event this past Sunday was a great success. As always, our friend Ray Bradley was a wonderfully gracious host. We hope to see you at the next one.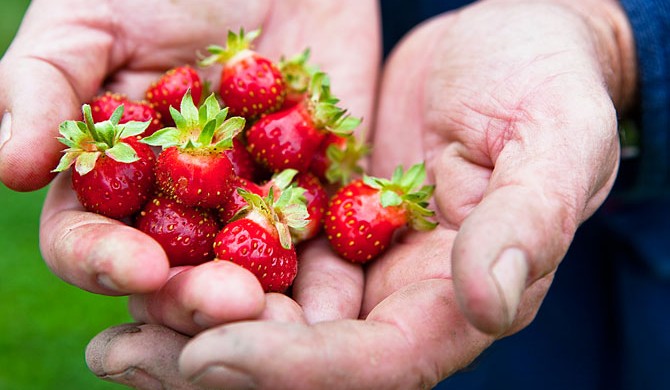 Rick Bishop
Market Fresh
Rick Bishop has worked closely with David Bouley for over 20 years, growing produce on and around his 35-acre farm in Roscoe, NY, with the chef's creative approach to cuisine in mind. The secrets to Rick Bishop's success are simple – dedication to his craft, knowledge (he studied soil science at Cornell University) and passion for the produce. A forerunner in the New York fresh produce revolution, Rick shares with us his favorite seasonal vegetables:
Crosnes:
This is a little French tuber that actually looks like a tiny Michelin Man! David originally brought me some back from France about 15 years ago to plant. They thrive on aged, mature compost and yield a big September/October/November crop. A member of the mint family, they are about 1-2 inches in length and are delicious! They can be used as a crunchy little garnish on a plate, pickled, or even served warm in butter. They really act as a texture accent on a dish. Crosnes will keep for 2 months refrigerated—they are very durable, like little baby carrots.
Fingerling Potatoes:
In the fall, the potato harvest is in full swing. David tries to get quantity commitments on our larger fingerlings as early as July for his pomme purees! His favorite is the La Ratte. We grow them along the sandy banks of the Beaverkill River, which is optimal soil for potatoes because the sandy qualities prohibit diseases and allow for proper drainage. We cellar them with the soil still on them (to maximize flavor), washing them right before we sell them. Always store potatoes in a cool dark place; light is the enemy because it makes them a little astringent.
Wild Watercress:
Rule of thumb: Months with R's in them are good for watercress; much like oysters, they prefer cooler weather. They grow in cold spring water. There are a lot of old abandoned homesteads around our farm that have springs. Back in the day, settlers originally planted the watercress in these springs and it still grows there today. We pick it the day before market so it's really fresh and crispy. It is best used within 2-3 days.
Shell Beans:
Flageolet, Cannellini and Borlotto: We have a very nice planting of these three shell beans, (all heirloom varietals) that really shine in the month of September. Once again, they like it down along the side of the river, in the beautiful bottom river gravel. We add mulch to keep them cleaner and mineral powders into the ground for flavor. The Flageolets, in particular, are exceptional.
Tri-Star Strawberries:
Tri-star strawberries span three seasons and in autumn they take on a very unique fall flavor. As the weather gets cooler, they get crunchier, firmer and pointier. They almost have an apple-crispness to them—it's like eating an entirely different berry even though it came from the same plant! They ripen slowly and get really sweet. No storage tip here because they disappear so fast when around!
Artisanal Design
Crafting Bouley: As is often the case, events that seemingly occur at random might have had, upon closer scrutiny, more than a little push from destiny. That exact kind of divine intervention guided David Bouley and his wife, Nicole, to the tiny Provençal village of Carcés, France. Here they would find the antique doors that would become the portals into the magical rooms of the new Bouley space.
Jean-Claude Lecompte: Master Wood Craftsman
At Les Milles et Une Portes (A Thousand and One Doors), they would have a chance encounter with artisan, Jean-Claude Lecompte. Little did they know that when they asked for a recommendation of other brocanteurs in Provençe, it would spark the beginning of a long and bountiful collaboration.  Monsieur Lecompte turned out to be a master craftsman, specializing in the restoration of "centuries-old" doors, antique woods, and the alchemy of time-honored varnishes. The map that he provided, which was intended to lead Bouley to other great discoveries in Provençe, would in fact be the beginning of a fantastic journey that would take Jean-Claude to New York. After an engaging conversation, Bouley asked Lecompte to come to New York for a few weeks to help restore the doors he had found in Provençe.  His "two-week" stay became one month, then a year, as Jean-Claude turned his skills to work on other discoveries Bouley had brought back from Provençe. One such project, perhaps the most challenging for Lecompte, was the renovation of six wooden beams, unearthed in the village of Salernes. At first, there were very real doubts that the beams, which date back to 1751, could actually be restored. Originating from an abandoned farmhouse, marked with nails and worn by the elements, each beam arrived in the very capable hands of Lecompte in as many as ten pieces. Today, they are replete in their intended glory and have found their rightful place in the ceiling of the restaurant's lounge area.  When Bouley met Jean-Claude, it was a truly timely gift as he was on the verge of retiring. Due to economics and changes in the apprentice programs in France, the techniques, knowledge, and ability of such master woodworkers as Lecompte will soon be a lost art. Lecompte explains that it took decades to learn his craft. The shapes, the colors, and the textures are all ingrained in his memory. He is so skilled that his hands guide themselves. Not only can he breathe new life into antique wooden doors, but he is capable of handcrafting furniture to such perfection, painstakingly replicating the details of antiques, down to the irregularities on their surfaces, that he can make them indistinguishable from the originals.
Claude Puaux: Architect and Stone Artisan.  
Could it also have been destiny that brought Claude Puaux from Paris to New York, ten years ago, to set up a showroom of 14th through 18th-century fireplaces in Tribeca, thus becoming neighbors with David Bouley? Their paths would be intertwined, and Claude would literally lay the groundwork for the new Bouley restaurant—designing and constructing the Burgandy stone floors, the pierre d'orient lime stone walls, support columns and fire place. An architect by trade and an all-around craftsman whose experiences are a mixture of ancient and modern, from contemporary design to the restoration a 14th-century church in France, Puaux is another master artisan who would become part of the elaborate team. And as if another link in the chain, Puaux would discover that a long-closed quarry that once provided all of the stone to construct the Château de Versailles would again be reopened—its treasures once more available only for the most noble of projects.  Puaux convinced the quarry owner of the stature of the new Bouley restaurant, which was selected as the only project outside of France to receive the stone. Under the watchful eye of Puaux, the beholden Versailles stone would travel to New York to adorn the walls, fireplace, and staircases in one-of-a kind, preordained patterns. While Claude worked on the actual design of each stone in New York, the pieces were cut, down to the exact millimeter, in France. Over 20 tons of stone were shipped. Each stone had been given a name and would be sorted, analyzed, and studied to find its place, and little by little would begin to tell a story at Bouley. For the downstairs private dining room, each stone was chosen for its unique color, shape,and dimension. Smooth or textured, dark or light, their placements are such that they create contrasts. In many instances, Puaux used ancient and sometimes mythical and biblical techniques to create intricate patterns—their physical arrangement in a space taking into account the 'golden number,' a hypothesis that hearkens back to the Greek's quest for perfection in ratio using the numberphi. The result is more than just a pattern on the ground; it is a dizzying display of craftsmanship and meaning: the stones guide you to your destination, as is their intended purpose. To have these seemingly arbitrary relationships converge in one spot seems almost foretold by stars aligned for all the right reasons. Each artisan took up their tooled instruments like a finely tuned world-class orchestra, with David as the chef-maestro, to create a symphony of perfect design in careful unison with one another. The new Bouley is indeed a noble creation. Just as the Renaissance age thrived due to nobility who patronized the arts for art's sake, Bouley is supported by those diners who appreciate perfection in their culinary experience. What David Bouley strives to accomplish in his new restaurant is a testament to his quest for perfection, by creating the ultimate location to enjoy his own inspiring culinary creations. Perhaps it was as much David's purpose-driven destiny to have fulfilled this project as it was for these artists to exercise their skill by working in concert with him.
Wouter Dolk: Hand Painted Wall Papers, Design and Ceramics.  
To say classic never goes out of style doesn't come close to an appreciation of Wouter Dolk's painstakingly beautiful work that brings to life yet another craft, centuries old, steeped in traditional mysticism. Walls wrapped in luxury, where luxury is defined as a commitment to time and detail, are this Dutch artist's passion. The eye takes in the aesthetic whole, a glorious tapestry often depicting flora and fauna of the woods, before being pulled into the minutia: distinctive, illuminating brushstrokes that give each representation a unique identity. And all presented on an equally labor-intensive medium: acid-free packing paper primed with as many as 30 layers of gesso, a mixture of chalk dust and animal glue, where each layer takes up to three days to dry. Dolk then hand colors designs with egg tempera, a technique used in illuminated manuscripts of the Middle Ages, where pigments bind with egg yolk for a permanent color that does not fade with time. At Bouley, Dolk weaves his magic along the walls throughout the restaurant. White lilies, immaculate on a dusty blue background, greet diners in the Bouley lounge. In the library, panels of brightly colored bluebells and tulips, laced and studded with gold details, dazzle the senses from one to  the other. It's art from a time before our attention was divided among high-speed gadgetry options, to be studied and pondered over slowly in a space that showcases a penchant for craft: Bouley.
Avedis Duvenjian: Master Artisan in Aged Wood and Designed Wood Floors. 
With Chef Bouley's vision, Master artisan Avedis Duvenjian and his skilled team transformed the raw floors of the Mohawk building, of the lounge, main dining room and library. Handcrafting each individual piece of wood to bring out its own inherent personality and the impression of age. The unique parquet pattern in the lounge was inspired by the floors of the 16th-century Château du Tertre in Bordeaux.  Fabricated from quarter-sawn European walnut wood, the parquet floor is highly polished and has a strikingly original design. The Main dining room of Bouley has over 44 thousand pieces of wood, diamond cut oak surrounded by four strips of walnut wood optically blend together to form a mosaic of nature. Duvenjian's  techniques of multi spices wood Plank, Parquet, Herringbone, Antique, Modern, Traditional, Maquetry, included height adjustment, sub-floor preparation, dry layering: The process of laying down the actual floor in the space of affording Chef Bouley the opportunity to keenly observe the direction and make changes, such as matching unrelated boards prior to final installation. Hand scraping, sanding, color, grain, grade matching, permanent coloring with acid etching, burnishing oil applications, urethane finishes, installation and care are what define Duvenjians floors designs.
Claude Chevalley: Master Painter in Oils and Pastels. 
Once again, fate intervened to forge the relationship between artist Claude Chevalley and Chef David Bouley, as a series of random associations brought the painter's work to David's attention.  The rest is well documented on the walls of all of the Chefs restaurants in a series of pastels. Claude studied at the Ecole des Beaux-Arts in Paris before embarking in a career in the advertising and publishing industries and spending a year as the "official artist" of Monaco at Prince Rainier's request in 1995. From New York to Tokyo, his exhibits—which reflect his passion for the styles of the Impressionist masters—have received great reviews. Claude Chevally did not start out painting landscapes, but upon discovering what Impressionists had laid their claim to fame on—that perfect light of Provençe—his artistic focus was forever changed. "In Paris, shadows are grey; they have no color," says Claude. "In Provençe, the shadow of a tree can be red or blue; it is a complementary color altered by an intangible element in the light there."
Alexa Davis: Interior Wall Finishes. 
What Alexa Davis and her team, Shirley Buitrago and Marie Fedowitz, at ALD Productions strive to do is pull apart color and recreate it. At Bouley, they painstakingly apply numerous layers of mica glaze to the ceilings throughout the restaurant, to obtain texture not unlike real fabric. Then, using custom-mixed color to convey emotion, Davis creates the direction for the purpose of each space. In the main dining room, a suede-textured finish on the walls was created, the vaulted ceiling, laid with 18-karat gold leaf sheets,  has been hand-rubbed with a 12-karat white-gold antique crackle varnish. The result is an opulence topped only by the appearance of Bouley's decadent dishes at each table. In the private dining room, known as the Red Room, pigment has the brilliance of an Emil Nolde painting with gold washing through the cadmium. Alexa has a BFA in Sculpture from the School of Visual Arts in New York, and an unbridled passion for understanding how color works, Davis connects not only with the space she is working within, but also seamlessly connects adjacent spaces together.
Didier Benderli: Architect, Designer. 
While Chef Bouley is not only a creator of his own signature style of cooking, his talents also extend to design. Didier Benderli assisted with a line of "limited edition" furniture, chair and table design and lighting perfectly adapted to the possiblilities and constraints of the restaurant space. Benderli's spacial renderings helped  to refine the vision. Born in Paris, he followed his studies at the Schoolof Architecture UP8 and art history at the Sorbonne. After graduation, he went to work in South America where he directed numerous projects including in Brazil. In 1989,  he worked with designer of the Danube Restaurant, Jacques Garcia, as artistic director for 12 years. He created his own agency, Kerylos Intérieurs, in 2001.
Nicole Bartelme: Designer, Photographer. 
Together, Chef David Bouley and his wife Nicole Bartelme, hand selected all the materials in Bouley Restaurant. David's passion for antiques and creating items that reflect pure artisanal design flow into Bartelme's sensibility of textiles. Bartelme sourced the fabric used for the window treatments for both the lounge and main dining room and chairs, in addition to the fabric used to create a jewel box room women's lounge. With the options she presented, Bouley was inspired by what the textures represented and applied the textiles to the walls and columns in the foyer. "The apple room is a signature of Bouley Restaurant's first incarnation when it was over looking the North side of Duane Park. Today, now over looking the East side of Duane Park,  this same scented foyer transports the guests, the textiles adding another layer connected to nature." Bartelme founded TriBeCa Native, LLC as an umbrella entity for creative projects from branding (for brushstroke restaurant) to photography.
Martin Bouley: Contractor, Architect, Sculptor. 
The Mohawk Building was raw space when Martin Bouley set his first plum lines. His approach to work is with forethought and anticipation. He sees building as a series of processes that have to be understood fully so they can be sequenced properly. He applies the same rigor from concept to design to building. There are no short cuts. Martin Bouley's attention to detail and thorough planning ensures architectural intent is properly interpreted in the finished product. His expertise earns him the respect of architects, structural engineers, mechanical engineers and the tradesmen he inspires to do their best work. Martin Bouley's personal involvement in the process of developing and overseeing the execution of the design makes all the difference. He likes to push the limits, inspired by challenging spaces. From home libraries to his brother's New York restaurants, there is nothing he can't build. 'Bouley Builders' adapted  projects from San Francisco to New York City.
Peter Kirkiles: Design, Fabrication, Sculptor. 
Peter Kirklies worked hand in hand with Chef Bouley to design the 'Chef's Pass'. David sourced the  earthen honey colored petrified stone used for the table through ABC Stone in Brooklyn. Kirklies designed the supporting frame of the table that took 13 men to guide it into a stable horizontal plane. Bouley, inspired by the antique shop of Michael Trapp in Cornwall, Ct, had Kirklies emulate the shelving in Michael's shop. The design partnership continues with the creation of a new bread wagon or chariot, cheese and soon to come tea infusion cart.  PKDF was founded in 2004 after relocating from New York City to Kent, Ct.
Jacques Mahou
Jacques Mahou has consulted with Chef David Bouley since the beginning of his first restaurant in 1984. A recipient of the médaille d'argent des Meilleurs Ouvriers de France (Best Craftsmen Award), Mahou has helped devise the recipes executed for Le Chariot de Pain presented at Bouley. Le Chariot stands as a celebration of their collaboration, friendship and will to share "the secret of levain".