Artisanal Sources & Purveyors
Named the 2007 World Champion Cheese Affineur "Refiner" and honored as a Master Craftsman of France, Rodolphe Le Meunier now brings his passion for great cheeses to Bouley.
Precious Cargo 
 In order to send his cheeses to David Bouley, Le Meunier had to first master the transportation cycle to ensure the cheeses spend the least time in transit possible. He also needed to make certain that once the cheeses arrived at Bouley, they would be stored in optimum conditions to breathe and evolve naturally. Bouley built a specially designed cheese cellar for this purpose. The cellar itself has a viewing window that allow patrons to observe the cheeses, and the room is climate controlled–set to the exact temperature, humidity, and ventilation levels needed to create the perfect environment for the cheeses. To complete the cycle, Le Meunier has developed a training program to teach Bouley's staff how to care for, cut, and present the cheeses.
Rodolphe Le Meunier at Bouley Restaurant 
Le Meunier has provided a coup de coeur selection of five cheeses to be presented on a tasting plate at Bouley Restaurant. The seasonal assortment will change every few months, and Le Meunier will also conduct exclusive tastings, such as a trilogy of aged Comté d'Alpages featuring a 2008 aged 18 months, a 2007 aged 30 months, and a third from 2006 aged 40 months. They will be paired with a vin jaune, a regional white wine from France's Jura region. Look to Bouley's new Chariot du Fromage to taste the efforts of one of the Cheese world's master artisans.
Rodolphe Le Meunier at Bouley Test Kitchen Bouley and Le Meunier are also currently planning exclusive events at the Test Kitchen, where guests can taste all of Le Meunier's cheese selections and learn how to incorporate them into recipes.
Farm-to-Table
The 2nd annual Farm-to-Table event this past Sunday was a great success. As always, our friend Ray Bradley was a wonderfully gracious host. We hope to see you at the next one.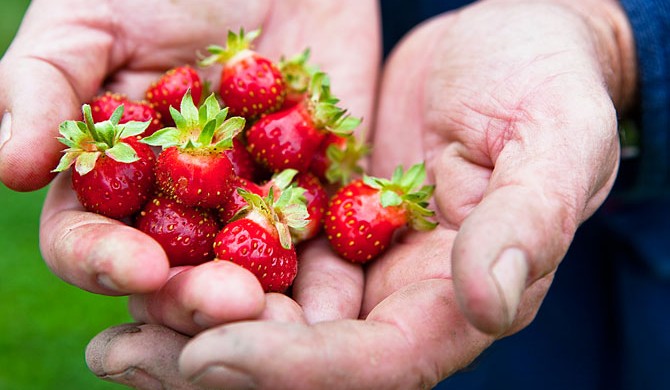 Rick Bishop
Market Fresh
Rick Bishop has worked closely with David Bouley for over 20 years, growing produce on and around his 35-acre farm in Roscoe, NY, with the chef's creative approach to cuisine in mind. The secrets to Rick Bishop's success are simple – dedication to his craft, knowledge (he studied soil science at Cornell University) and passion for the produce. A forerunner in the New York fresh produce revolution, Rick shares with us his favorite seasonal vegetables:
Crosnes:
This is a little French tuber that actually looks like a tiny Michelin Man! David originally brought me some back from France about 15 years ago to plant. They thrive on aged, mature compost and yield a big September/October/November crop. A member of the mint family, they are about 1-2 inches in length and are delicious! They can be used as a crunchy little garnish on a plate, pickled, or even served warm in butter. They really act as a texture accent on a dish. Crosnes will keep for 2 months refrigerated—they are very durable, like little baby carrots.
Fingerling Potatoes:
In the fall, the potato harvest is in full swing. David tries to get quantity commitments on our larger fingerlings as early as July for his pomme purees! His favorite is the La Ratte. We grow them along the sandy banks of the Beaverkill River, which is optimal soil for potatoes because the sandy qualities prohibit diseases and allow for proper drainage. We cellar them with the soil still on them (to maximize flavor), washing them right before we sell them. Always store potatoes in a cool dark place; light is the enemy because it makes them a little astringent.
Wild Watercress:
Rule of thumb: Months with R's in them are good for watercress; much like oysters, they prefer cooler weather. They grow in cold spring water. There are a lot of old abandoned homesteads around our farm that have springs. Back in the day, settlers originally planted the watercress in these springs and it still grows there today. We pick it the day before market so it's really fresh and crispy. It is best used within 2-3 days.
Shell Beans:
Flageolet, Cannellini and Borlotto: We have a very nice planting of these three shell beans, (all heirloom varietals) that really shine in the month of September. Once again, they like it down along the side of the river, in the beautiful bottom river gravel. We add mulch to keep them cleaner and mineral powders into the ground for flavor. The Flageolets, in particular, are exceptional.
Tri-Star Strawberries:
Tri-star strawberries span three seasons and in autumn they take on a very unique fall flavor. As the weather gets cooler, they get crunchier, firmer and pointier. They almost have an apple-crispness to them—it's like eating an entirely different berry even though it came from the same plant! They ripen slowly and get really sweet. No storage tip here because they disappear so fast when around!
Jacques Mahou
Jacques Mahou has consulted with Chef David Bouley since the beginning of his first restaurant in 1984. A recipient of the médaille d'argent des Meilleurs Ouvriers de France (Best Craftsmen Award), Mahou has helped devise the recipes executed for Le Chariot de Pain presented at Bouley. Le Chariot stands as a celebration of their collaboration, friendship and will to share "the secret of levain".